Versatile VFFS Packaging Machines
Triangle vertical form fill seal baggers increase production yield while enhancing food safety efforts. Built and serviced in the USA at our Chicago, IL facility and designed for 24/7 operation, Triangle baggers are rugged and run in even the harshest environments. Available in both continuous and intermittent motion options, Triangle baggers are versatile and designed to meet your application's needs.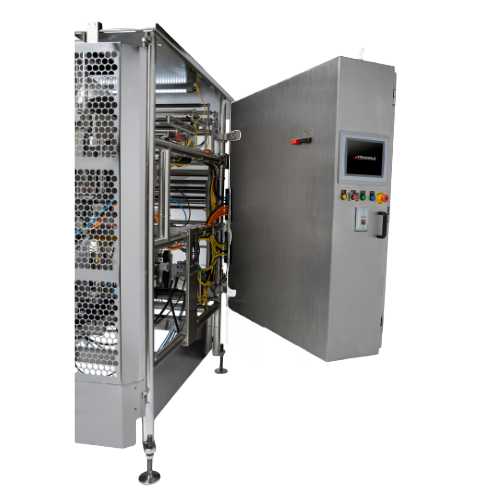 Sanitary Packaging
Triangle VFFS bag machines are designed and built with the strictest sanitary requirements in mind and are available in various santiation levels. Standard sanitary features include:
Sloped control box which pivots to provide 360º of machine access for cleaning
Servo motors available in three sanitation levels to meet your product's demands - stainless steel, stainless steel washdown and USDA/3A
Open cable management reduces bacteria harborage sites by eliminating growth niches
Quick removal sealing jaws and back seal components for easy washdown
Delta Series Intermittent Motion VFFS
With Smart IO Technology, Delta Series intermittent motion VFFS machines improve troubleshooting and preventative maintenance efforts by proactively sensing changes such as air pressure fluctuation and when film rolls are running low. These bag packaging machines are ideal for products such as baby carrots, sugar, frozen chicken and more. Available in three levels of sanitation including stainless steel, stainless steel washdown and USDA/3-A. Featuring round barstock frames and smooth, ground welds, harborage points are eliminated. Optional stainless steel guard doors and stainless steel forming tube.
Options include:
Ability to run two baggers side-by-side in a compact footprint at speeds up to 120+/minute
Zipper tape applicator that packages bulky foods in easy access bags that fully open across the
entire width of the package
Ability to run multiple bag styles, including EZ-stand, pillow, gusseted and flat bottom bags
Rotatable jaws that easily switch from pillow to 3-side seal bags in under 10 minutes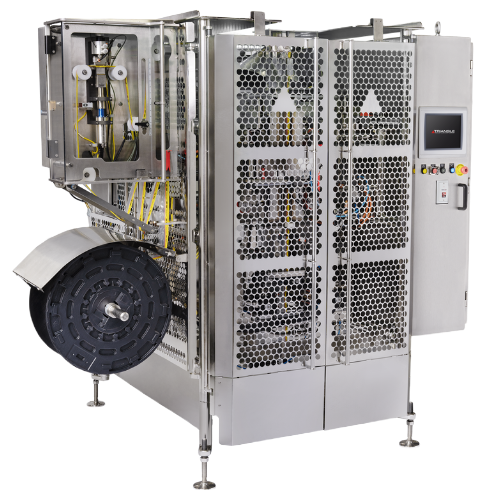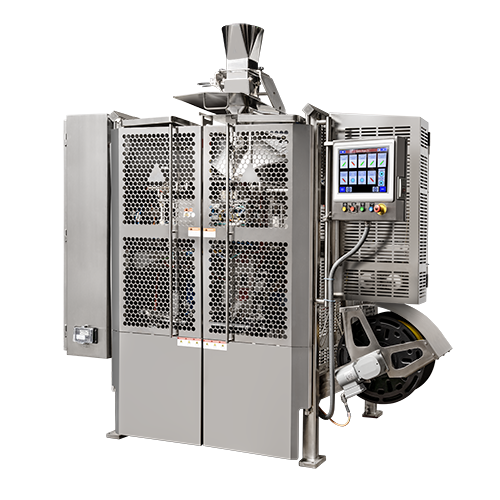 X-Series Continous Motion VFFS
The X-Series continous motion VFFS is an all-servo bagger that offers fast operating speeds, helping end users achieve speeds up to 150 bags per minute. These baggers are ideal for products such as mac and cheese, RTE meat and poultry, candy and more. Available in four sanitation levels, including painted steel, stainless steel, stainless steel washdown and USDA/3-A. Designed with a continuously welded tubular frame, as well as cross members rotated 45º to allow product runoff to further enhance food safety.
Options include:
Ultrasonic sealing for applications that require hermetic seals
Integrated zipper applicator for bags that fully open form left to right
A liquid squeegee that keeps liquid out of the sealing area and achieves clean seals, every time
Ability to run multiple bag styles, including EZ-stand, pillow, gusseted and flat bottom bags
Rotatable jaws that switch formats in 10 minutes or less without heavy equipment or complicated
tools
Solid frame