Increase Production Yields with

Multihead Weighers
Triangle multihead weighers are an efficient way to increase production yield while offering superior accuracy. Built in the USA at our Chicago, IL facility, these multihead scales are rugged and can handle products that are typically difficult to run with ease. Available in both belt-fed and inline options, Triangle multihead weighers are designed to fit your application's needs.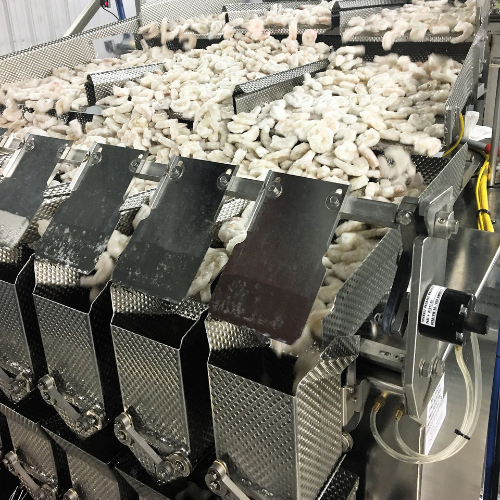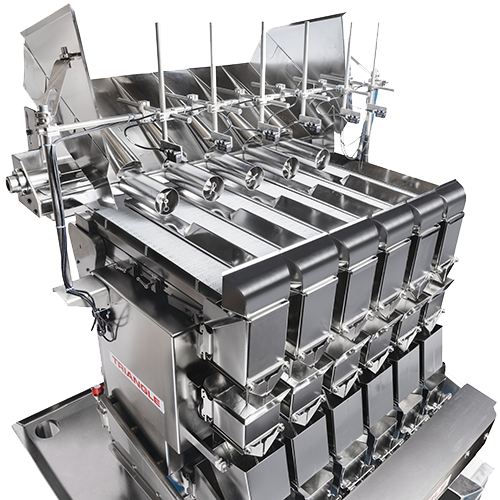 Easily Handle
Challenging
Product
s
with
Belt-Fed Multihead
Scales
Our belt-fed weighers are ideal for larger pieces of difficult-to-run products, such as fresh boneless chicken or cubed, marinated or shredded proteins.
The belt-fed scale is designed with 6" x 6" buckets, and can handle large weights and pieces with ease–up to 10 lbs in one discharge. With 12 selection buckets and a maximum speed of 60 discharges per minute, the Triangle belt-fed weigher offers a maximum weighment per discharge of 200 oz.
Offering unmatched accuracy, our weighers provide a quick return on investment. Customers enjoy immediate savings in product giveaway and our unique belt transfer system does not damage the product in any way, shape or form. Additional savings are realized by fast and easy cleaning and maintenance, with easily removable belts and buckets.
I

mprove

Line

Speeds with I

nline Multihead

Weighers
Triangle inline multihead weighers feature three different product feeding methods, depending on your product characteristics: vibratory trays, a hopper, or a unique belt-fed system for fresh products. This ensures optimum product distribution and weight accuracy. All designs feature quick, hand-removable features for easy accessibility and sanitation. In addition, the split tray design offers a multiple-product blending option. Available in smooth or Rigid-Tex finish to ensure smooth product flow.
These inline scales are ideal for a wide variety of food packaging applications, such as frozen pastas, nuggets or shrimp to dry flowables such as candies or cereal as well as various confectionery products. They are available in two base models: Model A612 and Model A918. Model A612 features 12 selection buckets (4" x 4") and a maximum speed of 135 discharges per minute. With 18 selection buckets (4" x 4" or 4" x 6"), Model A918 offers a maximum speed of up to 165 discharges per minute.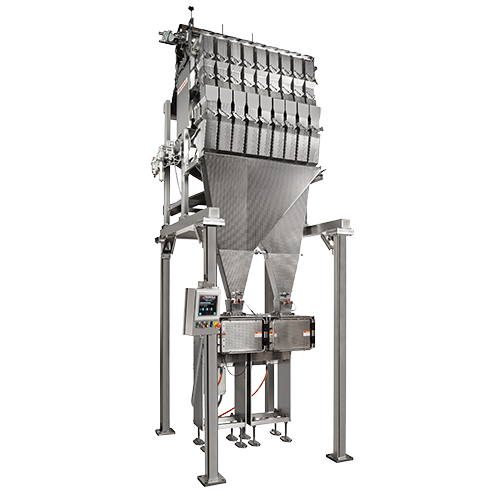 Multihead Weighers Specifications
| | |
| --- | --- |
| Max Speed | Up to 165/min |
| Max Weighment/Discharge | 60 oz to 200 oz |
| PLC | Rockwell |
| Connection | Ethernet |