Optimize Production with Triangle

In

l

ine

Multihead

Weighers
Our inline multihead weighers feature three different product feeding methods, depending on your product characteristics: vibratory trays, a hopper, or a unique belt-fed system for fresh products. This ensures optimum product distribution and weight accuracy. All designs feature quick, hand-removable features for easy accessibility and sanitation. In addition, a split tray design offers a multiple-product blending option. Available in smooth or Rigid-Tex finish to ensure smooth product flow.
Triangle combinational scales are ideal for a wide variety of food packaging applications, such as frozen fruit and vegetables, pastas, nuggets or shrimp to dry flowables such as short cut pasta, cereal, cookies and crackers, as well as various confectionery products. They are available in two base models: Model A612 and Model A918. Model A612 features 12 selection buckets (4" x 4") and a maximum speed of 135 discharges per minute. With 18 selection buckets (4" x 4" or 4" x 6"), Model A918 offers a maximum speed of up to 165 discharges per minute.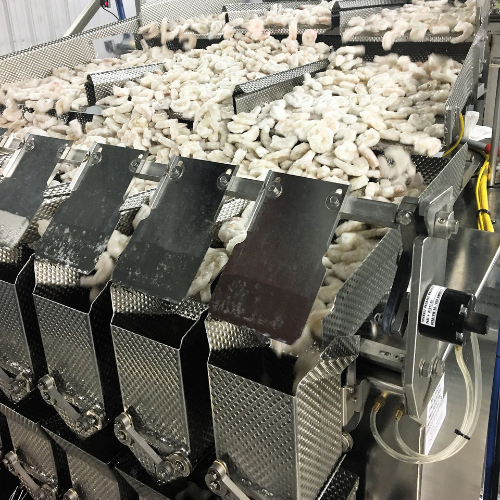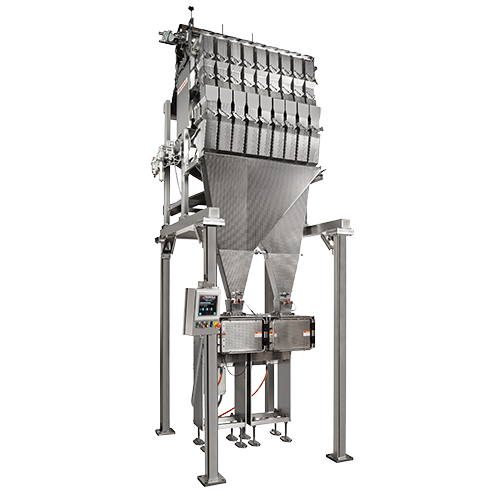 Eas
ily
Integrat
e
Inline Scales
with Rotary Wheels
for an Integrated Food Packaging System
Triangle inline weighers easily integrate with our rotary wheel systems. Combine the two and choose from over 262,000 combinations per weighment. A special pant leg design on the rotary wheel allows the scale to use all of the buckets to make the best weighment possible, helping you achieve more accuracy and less waste in your operations. And with three loading pockets per wheel, these systems are precise and can layer product into a specific area or tray pocket.
E
nhance Accessibility with User-Friendly
Controls
Non-proprietary controls are user-friendly and easy to maintain. As a Rockwell Automation Preferred Machine Builder Partner, we offer Rockwell ControlLogix, which allows us to offer both the bagger and scale with one control box – an industry first! Reliable and expandable, we offer advanced diagnostics and easy network data acquisition.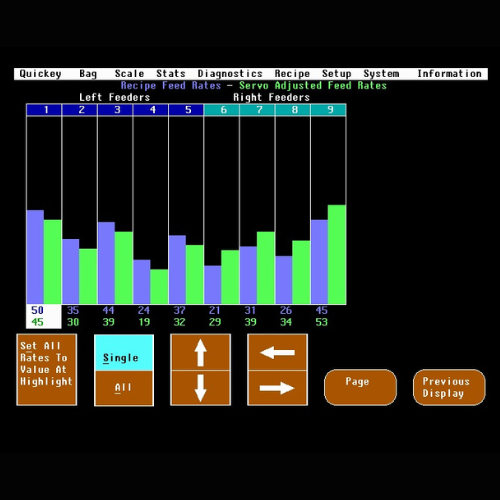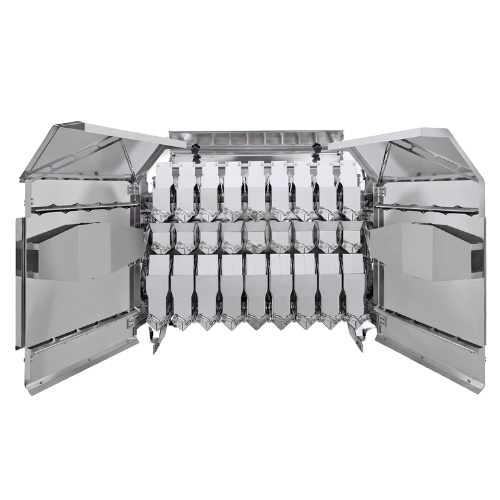 Maximize

Operational Efficiencies

with

Features

that

Optimiz

e Production
Triangle inline multihead weighers are designed with features that help meet the demands of your operations, including:
Mount directly over Rotary Wheel to save space

Fast double door bucket design to reduce product streaming

Vibration-resistant weigh cells

Tool-less hand-removable buckets and front trays make changeover and washdown a breeze

Contact points (buckets) that can be electropolished smooth or rigid-tex stainless steel or teflon coated
In-Line Weighers Specifications
| | |
| --- | --- |
| Max Speed | Up to 165/min |
| Max Weighment/Discharge | 60 oz to 200 oz |
| PLC | Rockwell |
| Connection | Ethernet |