Need Robust Bagging in a Small Footprint?
Triangle Compact Sanitary Baggers (CSB) allow food packagers and processors to achieve optimized forming, filling and sealing yields within a small footprint while enhancing food safety. Built and serviced in the USA at our Chicago, IL facility, the Compact Sanitary VFFS Bagger is backed by our 100+ years of experience. Designed to meet sanitary washdown requirements, the CSB is designed for the produce market, but can be used for a variety of markets, including cereal, meat and poultry and more.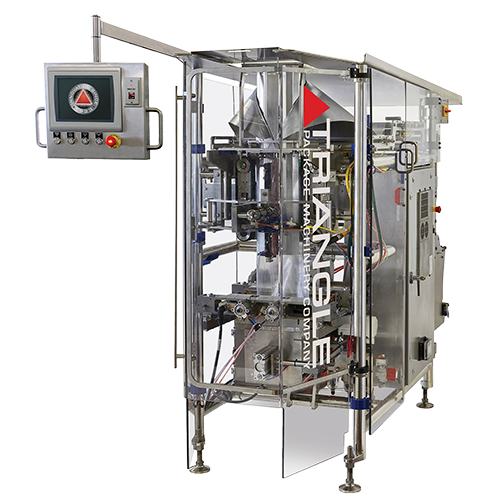 Compact Sanitary Baggers Give Your Production the Versatility It Needs
Compact Sanitary Baggers are designed to be accessible, and work with a wide variety of products and bags in addition to being user friendly. Key benefits include:
Run bag sizes from 2.5" to 13" wide and 15" long in a narrow 36" machine width
State-of-the-art sanitation designed to clean in place
Can pair two baggers side by side with a single scale
Ethernet communication for high data transfer speed and connectivity
Run 70+ bags/minute (120-140 bags/minute in dual configuration)
Save Space with Compact Packaging Machines
When you need a bagger, but don't have a lot of space to work with, a compact solution is the answer. The Triangle Compact Sanitary Bagger (CSB) is designed for dual configuration capabilities, allowing you to run two baggers side-by-side or use as single independent bagger to optimize your floorspace. Space-saving features include:
35" center-to-center distance for scale discharges
Pivoting HMI allows access to both screens from either side
Internally mounted control box leaves extra room in aisleways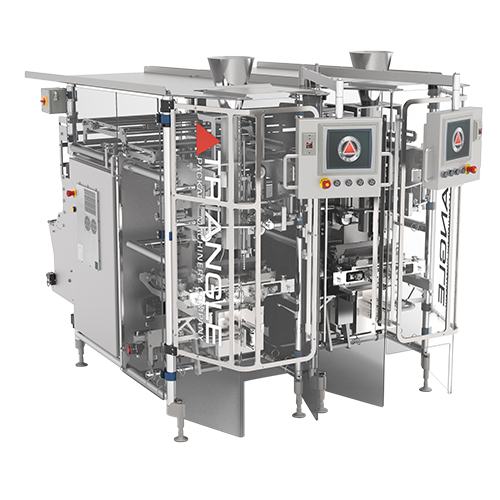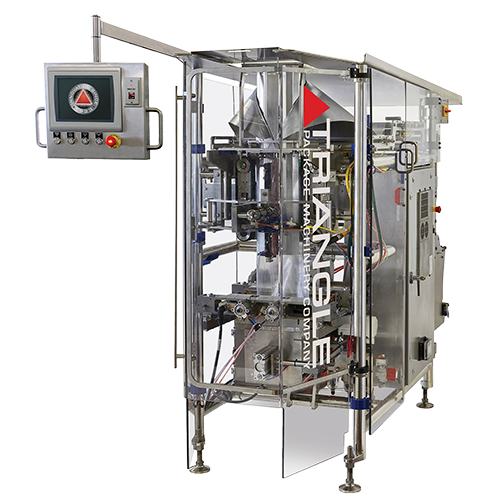 Enhance Food Safety with Sanitary Design Features
Keeping your product food-safe is of the utmost importance. WIth state of the art sanitation and washdown capability, the Compact Sanitary Bagger is designed to meet strict sanitary requirements. Sanitary design features include:
Solid round bar stainless steel frame, fully welded and electropolished
Film path covered by stainless steel top plate
Ability to clean in place
3A-rated feet
Open concept frame
Internally-mounted, pivoting control box for easy machine access
Anodized and Teflon-coated aluminum jaws and heater bars
Discharge height at 32" to allow for sanitary conveyors
Optional 3A rollers
Specifications
The Compact Sanitary Bagger is designed to easily integrate into your new or existing line while providing high-speed, sanitary forming, filling and sealing.
X-Series Specifications:

Standard
Max Speed
Up to 100/min
Max Bag Width
13"
Footprint
36"W x 120"D
Control Box
NEMA 4X
Rating
IP69K Servos
PLC
Rockwell
Connection
Ethernet
Sealing Options
Heat or Ultrasonic