Run Multiple Bag Styles with Rotatable Sealing Jaws
Triangle X-Series baggers offer rotatable jaws which allow traditional pillow bags or 3-sided seal pouches to run on the same machine. A unique sealing jaw carriage rotates in seconds for quick changeovers, and in turn, optimizes your production. Adding to their flexibility, they come with an option for transverse or longitudinal zipper applicator. Plus, they hygienically fill bags at speeds up to 150 bags per minute.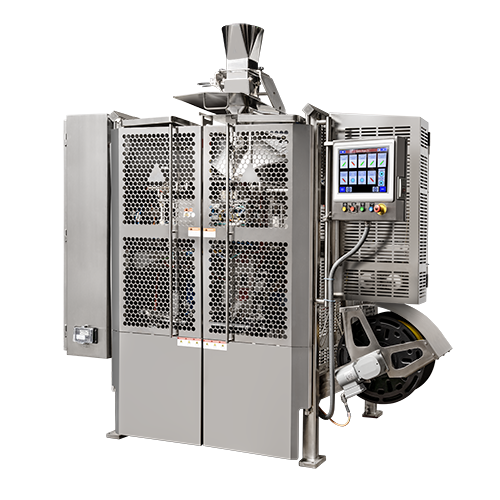 Sanitary VFFS Bagger
Available in 3 levels of sanitation, verstile VFFS baggers with rotatable jaws are designed to meet the food safety requirements your application demands. This includes stainless steel, stainless steel washdown and USDA/3A models.
Additional sanitary features include a hinged control box, which allows operators 360-degree machine access, open cable management and more.
Reduce Downtime with Quick Changeovers
Complicated changeovers can greatly increase downtime and even present worker safety issues. Triangle rotatable jaw VFFS baggers offer quick and simple changeovers, allowing end users to easily run multiple bag styles, including pillow, gusseted, side gusseted, zippered, flat bottom, 3-sideded seal and stand-up pouch (SUP).
With rotatable jaws, you can switch from pillow to 3-sided seal bags in under 20 minutes–without complicated tools or heavy equipment. Centerlining allows for change parts to be either color-coded or alphanumeric. Tool-less, quick change parts that reduce downtime include:
16-sided forming tubes
Film rolls
Vertical back seals
Sealing jaws