Meat and Poultry Packaging Solutions
Triangle packaging equipment thrives in cold, wet, harsh environments. Because of this, meat and poultry packaging are ideal applications for our rugged, sanitary VFFS baggers and weighers. Whether you're running IQF chicken nuggets or meatballs, fresh boneless, bone-in, cooked, par cooked or frozen poultry, or cooked, marinated meat, we have a poultry or meat packaging system for you.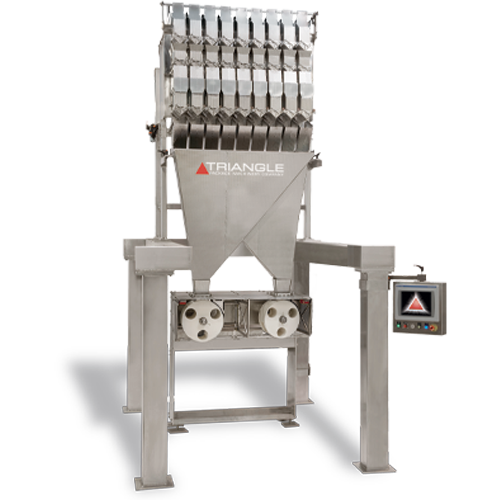 Rotary Depositing/Tray Loading Systems
Designed for tray/clamshell packaging applications, Triangle's rotary depositor/tray loading system loads fresh or frozen poultry into bowls, trays, or partitioned sections at speeds up to 75 trays/minute for a single wheel poultry packaging system and 150 trays/minute for a dual wheel poultry packaging system.
"Our output has improved 50-150 percent, depending on the product … Rejects are down from 5 percent to less than 0.1 percent… The dependability of the equipment and how it runs [versus our previous equipment] is night and day."
— Bill Hall, President of Hart Food Products Inc., commenting on his XM15 VFFS bagger and A612 multihead weigher.
X-Series VFFS Baggers
The X-Series is the faster, cleaner, smarter packaging solution. The versatile X-Series VFFS baggers are available in continuous or intermittent motion and include four frame sizes and styles to best meet your application needs.
Versatility
Offering speeds up to 120 bags per minute and the ability to run a wide range of bag styles, the flexible Model XYM15 is ideal for meat and poultry packaging applications. For even more versatility, Model XYRJ features an easily rotatable sealing jaw to run gusseted, flat bottom and pillow bags, as well as 3-sided seal pouches and gusseted stand-up pouches (SUP). Model XYRJ can also include an integrated transverse or longitudinal zipper applicator. For high-speed applications that require a smaller footprint, Model XYS08 can run bags up to 8″ wide at up to 150 bags per minute.
Ultrasonic Technology
With quick, tool-less changeover of sealing jaws, forming tubes and film rolls, all of our bagging machines are designed to run multiple package styles and sizes on the same machine. Enjoy less downtime and move more product out the door!
Sanitation
When it comes to sanitation, Triangle's VFFS baggers are second to none. Customers love the open, accessible, easy to clean design. X-Series baggers are available in three levels of sanitation, including stainless steel, stainless steel washdown, and USDA/3A models, with control box ratings from Nema 12 to Nema 4X. In fact, Triangle offers the only VFFS bagger and forming tube designed to meet strict USDA and 3A sanitation standards.