Though traditional heat-sealing methods are appropriate for most bagged products, they can fall short for some food applications. Since liquids, powders and cheese products can contaminate the inside of the film causing possible sealing failure, food safety can become a concern.
Triangle Delta Series and X-Series Vertical Form Fill Seal (VFFS) baggers featuring ultrasonic sealing are a food-safe solution that optimizes your production while resolving these issues.
Read on to explore the benefits of ultrasonic sealing that you should look for when choosing the sanitary, sustainable sealing method that's right for your food application.
Increase Throughput
Depending on room temperature, heat seal machines can take several minutes to heat to operational temperature, losing valuable available production time. Triangle baggers equipped with ultrasonics require no warm-up time and are available for use on-demand, allowing production lines to reclaim their uptime and increase throughput. This sealing method is also faster than heat sealing, taking only a fraction of a second for each weld and increasing cycle rates and production yields.
Realize Energy Efficiency
Ultrasonic sealing proves to be more energy-efficient than heat sealing. This is because ultrasonics do not require the use of heat, which can provide significant savings on energy costs. In fact, ultrasonic welding uses up to 75% less energy than its heat-sealing counterparts*. Power is only drawn while welding package seals. Costs are further reduced in cold environments since ultrasonics take on the ambient temperature of the room and do not require pre-heating.
Achieve Material & Maintenance Savings
Heat sealers can be inefficient, leaving up to half an inch worth of material on both sides of the bag wasted. By significantly reducing the amount of material needed thanks to precision welding of the film, ultrasonics offer material savings. Contributing further savings, they also do not require the use of consumables such as Teflon tape or sealing wax. By ridding the system of Teflon tape, which can expose operators to dangerous amounts of heat during changeover, worker safety is also further enhanced, and the chance of injury is significantly reduced.
Eliminate Leakers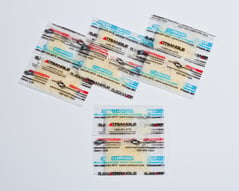 Heat-sealed bags and pouches are prone to leakage when product gets in the seal. Leaky seals are not only costly, but they can also be unsanitary and dangerous, leading to recalls. Ultrasonic technology on your VFFS machine moves contamination out of the seal area and provides up to a 100% hermetic seal.
Ensure Complete Seals with Closed Loop Feedback
Featuring closed loop feedback, Triangle VFFS baggers with ultrasonic sealing systems let the system know if a bag is acceptable or not. If a seal's weld points land within parameters, the system recognizes that the seal is good. If not, it communicates with the PLC and lets it know the pouch needs to be rejected. Since this process is fully automated, it also leads to a reduction in hand inspections.
With these 5 benefits, there's a lot to love about Triangle VFFS baggers featuring ultrasonic sealing.
Ready to discuss if ultrasonic sealing is right for enhancing your bagging?
*Source: Herrmann Ultrasonics, Ultrasonic Welding Technology – Food, p. 7